Skip to Content
Hershey's Mills Executive Bus Trips
Hershey's Mills Executive Bus Trips
A very popular amenity at Hershey's Mill is the bus trips. Hershey's Mill owns and operates its own new Freightliner bus with Air Ride technology, top-of-the-line seats, non-skid floors, and many other safety features designed to increase the safety and comfort of passengers.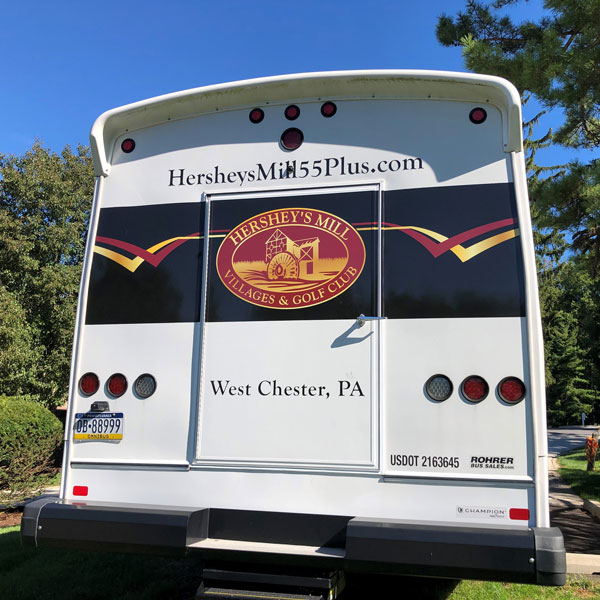 A Variety of Trips Are Offered Each Month
Some popular trips are to Longwood Garden to just visit the beautiful gardens or to attend the fireworks and fountains show; to Delaware Park to watch live horse racing or go to the casino for slots or table games; to New York City to attend a show, or a day of your own to enjoy "The Big Apple"; to Washington DC for the cherry blossoms in the spring, or to visit the museums and monuments; to the Jersey Shore for the visit to the beach or walk the boards or enjoy great shopping; to sports venues like the Phillies or the Lehigh Iron Pigs; or to enjoy series trips to the Philadelphia Orchestra or the Walnut Street Theater.
The bus committee is active in arranging a multitude of trips that would appeal to the varied interests of Hershey's Mill residents, and different trips are added each month. Some examples are dinner theaters, Penn State Football, Hiking and Bird Watching, art venues, and special trips centered around the holidays.
Looking to Join Us On a Trip?
Notification of Hershey's Mill Bus trips available are published each month in the Guide and Digest magazine, which is distributed free to Hershey's Mill Residents, announced on Hershey's Mill's own on-site TV station (HMCTV), and published to all Hershey's Mill residents via our Community News email.
The Hershey's Mill bus is also available to rent by any Hershey's Mill resident who wishes to have a private trip or function.
Come Explore the Beauty, Convenience and Safety of Hershey's Mill